Portable Commercial Sewing Machines
Mercury Machine Brochures provided for informational purposes only. I do not have Mercury machines for sale.
---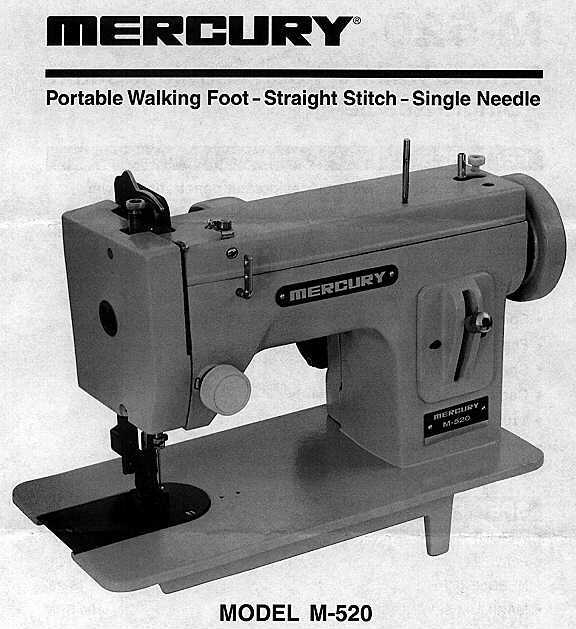 M-520
Portable Walking Foot - Straight Stitch - Single Needle
Geared belt pulley drive provides greater penetration power, longer belt life.
Cleated positraction belts combine with new geared hand wheel pulley, geared reduction pulley and geared motor pulley to eliminate slipping.
High lift walking foot.
Special heavy duty 150 watt motor attached.
Fits regular portable case or cabinets.
Can be used in industrial stands with appropriate cut-out.
Spring loaded reverse.
1100 stitches per minute.
Variable stitch length.
Can sew fabric layers as thick as 5/16".
Weight: 34 lbs.
POWER: 150WATT 110V MOTOR
Common needle system: 135 x 17(Sizes 18-23)
Maximum rated speed: 1100 SPM
MAXIMUM STRAIGHT STITCH LENGTH 6 mm
BED SIZE 14.5"x7"
Underarm space to the right of the needle: 6 and 7/8"
THREAD TAKE-UP LEVER: LINK TYPE (CAM & ROCKER ARM DRIVEN)
---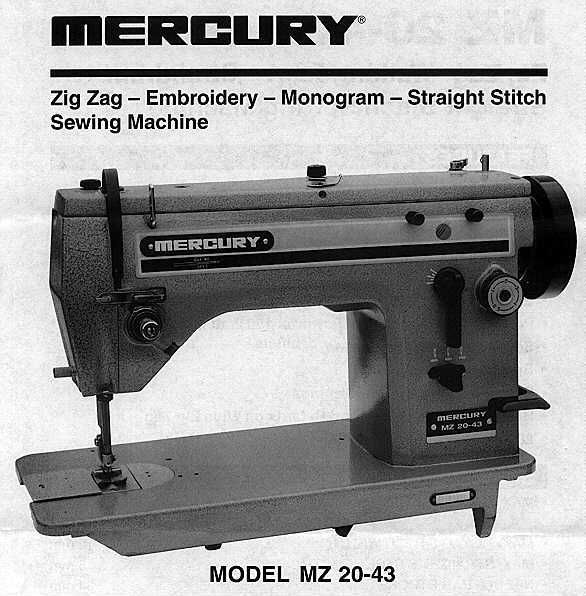 MZ 20-43
Zig Zag - Embroidery - Monogram Straight Stitch Sewing Machine
· Three Position Zig Zag
· Straight Stitch to 12 mm Wide Zig Zag Width
· Quiet Operation
· Easy Access for Spare Parts and Presser Feet
· Wide Zig Zag
· Built In Bobbin Winder
· Portable - Equipped with Powerful 150 Watt Motor
· Semi-Automatic Lubrication
· Reverse Lever
· Dial Stitch Length Control
· Hook Timing Advances and Retards on Wide Zig Zag
· 20U Parts Interchangeability
· MAX. SEWING SPEED ...... 1700 SPM (PORTABLE MOTOR) 2000 SPM (OPTIONAL POWER STAND)
· MAX. ZIGZAG STITCH WIDTH ......... 12 mm
· MAX. STRAIGHT STITCH LENGTH .......... 5 mm
· NEEDLE BAR STROKE ............. 34 mm
· BED SIZE ................ 15 and 3/4" x 7"
· UNDERARM SPACE ................... 8 '/4"
· THREAD TAKE-UP LEVER ............. LINKTYPE
· MAX. FABRIC THICKNESS ................... 5 mm
· PRESSER FOOT LIFT ................... 6 mm
· NEEDLE TYPE ................... DC x5, DP x5
· MOTOR POWER ................... 150W